Office Affair, a classic Soviet film, has been truly popular for over four decades. It became a hit right away, and has remained one of the most beloved movies for generations. The Sovetsky Ekran Magazine (The Soviet Screen) named Alisa Freindlich and Andrey Myagkov, the stars of the movie, the best actors of 1978. Immediate popularity and recognition was followed by national prizes and awards. Critics praised the magnificent acting, organic collaboration of director and actors, vivid portrayal of the Soviet society of that time, comedy and social satire along with the lyricism, poetry and beautiful music.
Like many real masterpieces, Office Affair absorbed and crystallized the spirit of its time, the late 1970s. It truthfully displayed the real life and actual problems of people in Brezhnev's Era of Stagnation, and this is one of the reasons it became so popular. For the very same reason, viewers from other countries and even younger Russians may miss the hints and hidden jokes that make this movie not just a romantic drama, but also a brilliant, sparkling comedy. In this article, I'll try to explain the secret language of the Office Affair to you so that you could understand the film better and enjoy it in full. But first, let's talk about the plot.
Plot: Pride and Loneliness
The film shows the development of unlikely relationships between a cold-hearted lady boss Kalugina and her clumsy, mumbling subordinate Novoseltsev. Being at the very top position in her bureau, Kalugina has no personal or social life, spending all her time in her office and giving all her heart to her work. Hardly anybody considers her a human, let alone a woman. In her mid 30s, she looks ten years older. Her subordinates call her "старуха" (crone) or "мымра" (frump). Novoseltsev is a single father of two sons. His wife abandoned him a long time ago. He is stuck in a low paying job, but is too shy to ask for a promotion. He lacks social skills, and never knows how to recognize an opportunity or take advantage of a situation. Everything changes when Yury Samokhvalov, a schoolmate of Novoseltsev, joins the bureau. Samokhvalov, a tactical social climber, teaches Novoselstev to start flirting with Kalugina in order to get a promotion. Eventually, Novoseltsev discovers a delicate and vulnerable heart in Kalugina, and both main characters experience dramatic transformation, finding in themselves and each other the traits they wouldn't believe they have.
Social Hierarchy and Socialistic Reality
The film starts with the scenes of the employees commuting to the office building. The places where the characters live and how they commute, indicate their social status. Ludmila Kalugina, the head of a statistical bureau, lives in a prestigious building in the historical center of Moscow. She has a service car and a personal driver. Yury Samokhvalov, her new deputy, lives in a large apartment in Moscow's center, and drives his own car, which was a luxury in the USSR., Average clerks, including the main character Anatoly Novoseltsev, live in remote suburbs, and have to ride overcrowded buses and noisy trains. That commute scene alone was enough to clearly show what place each character takes in the social ladder.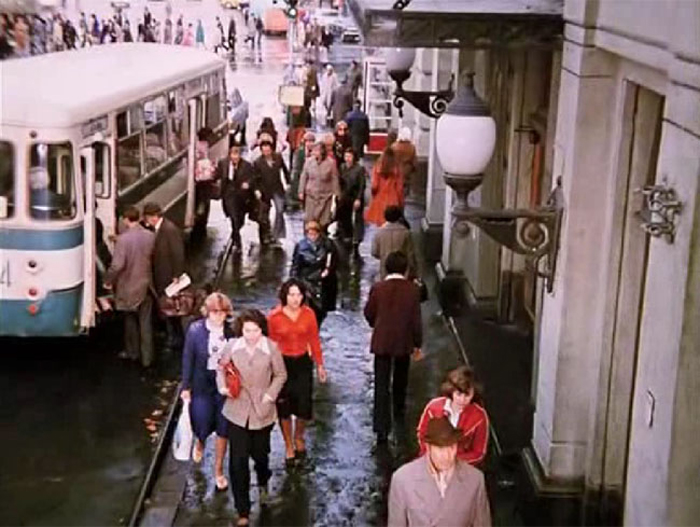 Typical Soviet Bureaucratic Institution
The statistical bureau, the place where the drama takes place, occupies the monstrous building and employs dozens of public servants. Formally, all those people should perform "statistical analysis" of the Soviet economy, but in fact, they do precisely nothing. The ladies start their morning with chit chats and grooming, the guys read sport news and smoke. During the day, the employees go shopping, make private calls, and participate in absurd activities arranged by Shura, a local labor union committee representative. The only person that seemed to care about the statistics is Kalugina, to the sheer amusement of her subordinates. 
In the Soviet Union, there were thousands of bureaus, research institutes, and administrations like that. All of them did exactly the same thing: nothing. They were satirized by Strugatsky brothers in their sci-fi novels, they were the object of many jokes that Soviet people told each other in low voice ("we pretend that we work, and they pretend that they pay us"). The charm of this film is that it didn't embellish the Soviet reality, but it found the way to talk about it with mild irony. It seems that the characters in the movie have got used to their everyday problems and learned to think about them as about the weather: it is just here, whether you like it or not.
The Main Antagonist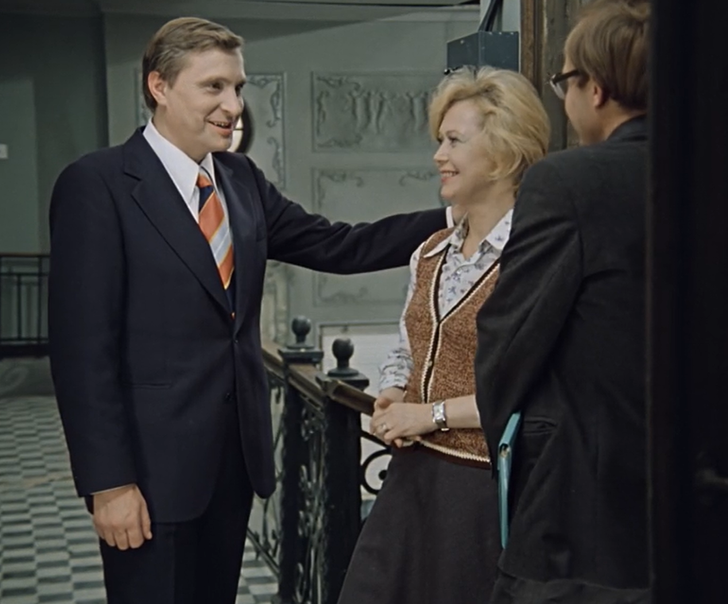 When Samokhvalov, brilliantly portrayed by Oleg Basilashvilli, shows up on the screen, a soviet viewer gets a lot of hints about his background. First of all, Samokhvalov said that he'd just returned from Switzerland. Most Soviet citizens couldn't freely travel abroad, even within the Eastern bloc. Only someone with tight connections in the KGB could travel to the capitalist countries. Samokhvalov gives away Marlboro cigarettes to impress his new colleagues – another gesture that reveals his special position in the society. Soviet people didn't have access to American tobacco brands. The best they could get was Bulgarian tobacco. Somebody who could give away cartons of Marlboro cigarettes would be one of the privileged KGB agents. His elegant suits, nice Hi-Fi home theater in his apartment, a personal car — all that cries to viewers: he is not a regular guy, he is a KGB informant.
The Fairytale of Rebellious Small Guy and Iron Lady
Classic Russian literature developed a series of archetypal characters called "маленький человек", a small guy. A typical "small guy" lives a miserable, but honest life. He is a victim of his own ethical standards, because he always loses social battles to his unscrupulous rivals. Novoseltsev is one of those small guys who transforms himself into a hero.
He possesses all the features of the typical "small guy". He confesses that his job doesn't pay him well. He has to borrow money from his friends to buy new shoes for his son. He is pathologically shy. He can't even speak straight to Kalugina because he is petrified to be in her presence.
However, when it comes to his moral principles, he demonstrates the courage that nobody could expect from him. He treasures his independence and does not allow people to help him out of pity. He protects his friends. He even punches Samokhvalov in the face for mean and dishonest behavior, knowing that Samokhvalov has the power to ruin his life.
Novoseltsev experiences transformation from a clumsy loser to a chivalrous knight. The changes in his personality happen when he realizes that he is in love.
However, he is not the only character that cardinally changes under the influence of romantic feelings.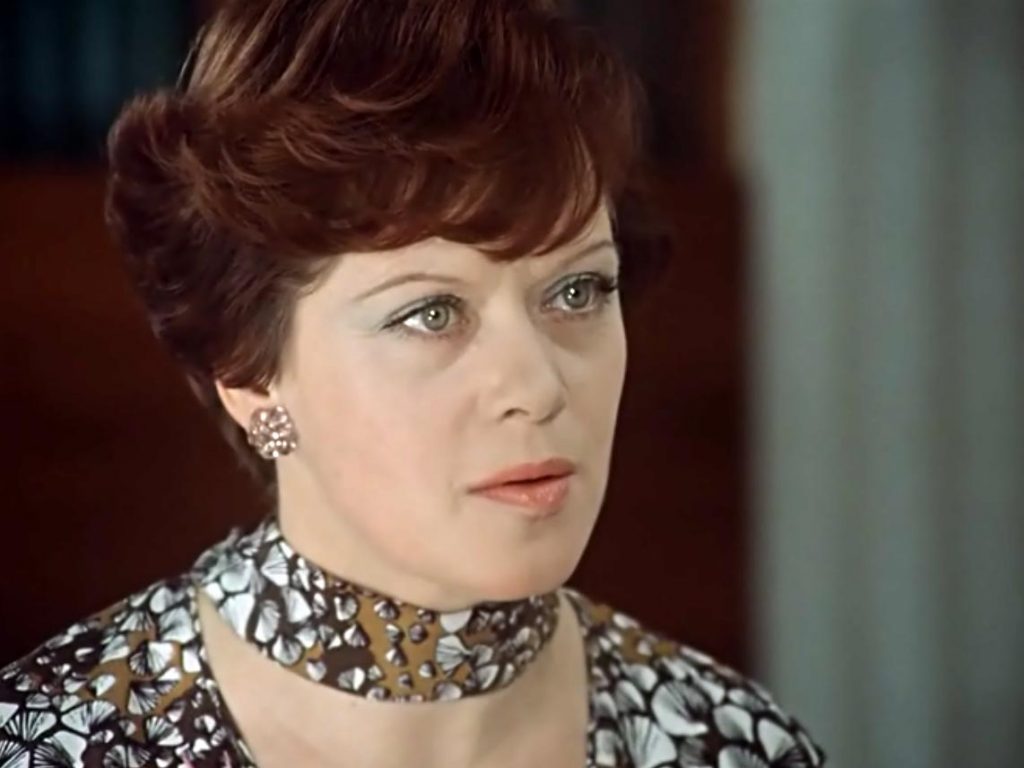 Kalugina may terrify her subordinates, but, in fact, she is as socially clumsy and insecure as Novoseltsev. She has deprived herself of friendship and romantic relationships because she is too scared of rejection. She is scared of her femininity, because she is afraid to lose control and become vulnerable.
Her transformation into an elegant, beautiful lady radiating happiness is as cardinal and important as Novoseltsev's conversion. She, too, needed all her courage to open her heart and let new love in.
Human Feelings Above Social Roles
The Era of Stagnation was a time of social pessimism. While the Khrushchev thaw gave people purpose and hope for a better life, the 1970s brought disappointment. Soviet people didn't see how they could improve their living, and developed coping mechanisms ranging from drinking (alcoholism became very common back then) to dark, bitter humor.
Office Affair offers a different cure for the social apathy. Through the love story, the film states the ultimate supremacy of human feelings over social roles. When the job is meaningless, material values unreachable, everyday problems overwhelming, and pretty much nothing's going to change that in the foreseeable future, there still is room for happiness. We remain humans under any political regime, and in any social formations. As long as we don't lose the ability to love, we may still find private happiness, even in a the bleak reality.
When I worded the summary like that, I laughed, because the movie is nowhere near as stilted and didactic. It is a comedy, after all, with many funny and touching moments. This is what makes it a masterpiece: it speaks about serious problems in a low, mild voice, with genuine humour and an all-understanding smile.